Green Crescent President Prof. DR. Mücahit Öztürk's Message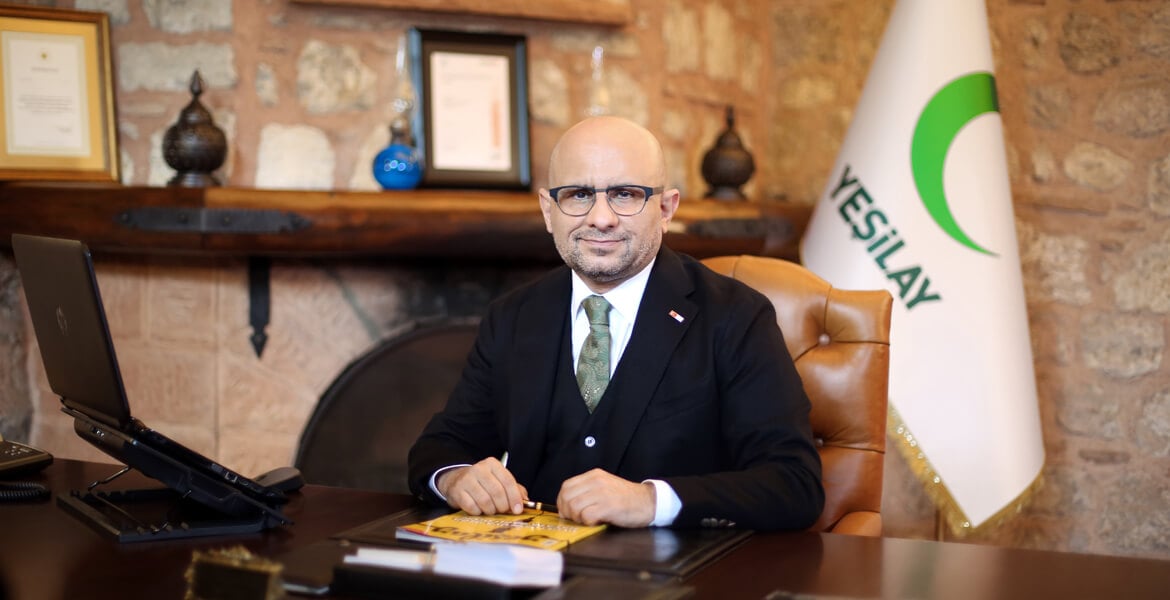 Green Crescent "Candidly" Towards 100th Year…
Dear Fellows of Green Crescent,
Our society, in these days of preparation for the 100th year celebration, is on a grand campaign together with you, against every kind of addiction harmful not only to human body and soul, but also to humanity's honor and respectability.
Our works and projects, while ensuring tens of thousands of met families and youngsters to have hope for the future, also provided global approval to Green Crescent as a pioneer.
Today, Green Crescent is actively taking part in international organizations working in the fields of addiction and is seen as a pioneer brand. With its professional volunteers, accountability, transparency and sincerity, it possesses an exemplary corporate structure and mindset among NGO's. All project, administrative, and financial information are transparently presented to interested parties' attention on the corporate website.
Especially in 2000's, important responsibilities and functions were incorporated into existing Green Crescent heritage. Green Crescent, the first organization to be easily reached with confidence by every addict or family of an addict, fulfilling every need in our community's fight against addiction with its renewed face, has changed the lives of many individuals with its inclusive and restorative approach.
Our recent studies on tobacco, alcohol, substance addiction as well as current problems such as gambling, internet and technology addiction, have now surpassed the stages of constituting protective awareness and consciousness in the community.
In the treatment's guidance and reintegration to society process, the number of Green Crescent Consultancy Centers (YEDAM) carried out by our organization has increased to 30 by 2019.
Since the beginning of their establishment in 2015, more than 51 thousand individuals have applied for the Green Crescent Consultancy Centers (YEDAM) within four years. Our Addiction Prevention Training Program of Turkey (TBM), which we have been executing with the Ministry of National Education since 2014, has been reaching students from kindergarten to high school, along with approximately 10 million students and 2 million adults every year.
Program on Addiction Intervention in Schools (OBM) includes finding out students who tried or who has been using alcohol or substance especially in high schools, getting their psychosocial evaluation, and directing them to health institutions.
While we approach to our 100th year, it is not a coincidence that we have constructed an exemplary and globally recognized Green Crescent society, which we all can be proud of. We are utilizing our community's awareness, power, and resources in the best and most efficient way together with our volunteers and professionals.
We work in compliance with good management principles, and continuously produce tangible benefits. As a non-governmental organization, we care about being open, transparent and accountable. In the light of our "Accountability" principle, we communicate all our projects and processes with the community, and share all our income and outcome with our citizens through our Society's web site in the form of yearly reports.
Every year, the number of scientific studies, research, broadcasts, conferences and trainings organized by Green Crescent will continue to increase. We will be a guide for specialists working in the field of addictions not only in our county, but in everywhere of the globe.
From the beginning of our 100th year, we will prioritize already begun activities to disseminate the Green Crescent brand to the world. We will strive to spread particularly Green Crescent's centennial experience and culture to as many people as possible without any religious, racial or linguistic discrimination. We have plans for many international projects, publishings, trainings, and representatives.
Our responsibilities are great. Always, together with our shareholders of whom we are all proud of, the most important source of strength is feeling the support of our community and shareholders while the grand Green Crescent family fulfills its crucial responsibilities. Our main goal is to protect, and guard this great heritage and brand, and to deliver it, advanced and enhanced, to the future generations.
We have hope and faith for the future…
Green Crescent President