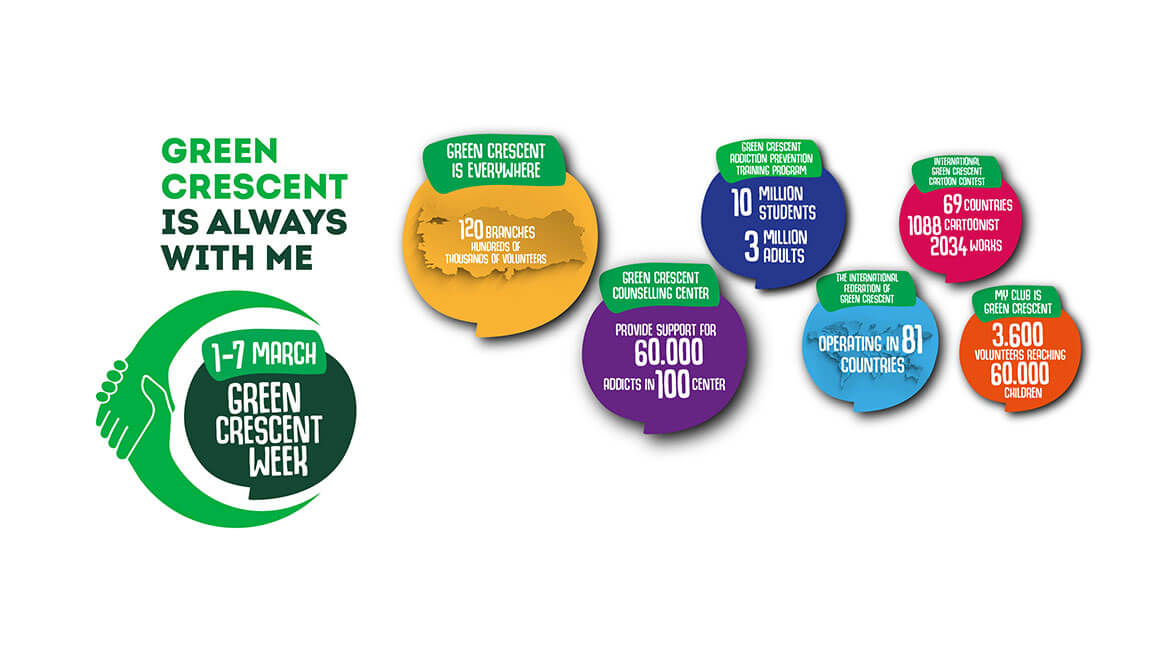 Green Crescent - Promoting Good and Healthy Living for 101 Years
Green Crescent Week is being held on March 1–7 with the motto "Green Crescent is Always with Me". Celebrating its 101st anniversary, Green Crescent will be drawing attention to the importance of a good and healthy life, free of addictions, with the activities it will be hosting throughout the week. Events are being held all over Turkey to mark the occasion, hosted by the 120 Green Crescent branches, and in the international arena by the 81 Country Green Crescents, while landmarks in Istanbul are being lit up in special green lighting to mark the occasion. Stating that Green Crescent always stands by the public in both its prevention and rehabilitation efforts, Green Crescent President Prof. Mücahit Öztürk said, "We have touched the lives of millions of people to date, and we continue to increase this number exponentially."

Having been promoting good and healthy living for over a century, Green Crescent is this year celebrating Green Crescent Week on March 1–7 with the motto "Green Crescent is Always with Me". In its efforts related to five different types of addictions, including tobacco, alcohol, substances, gambling and the Internet, Green Crescent has for 101 years been reaching out to people of all ages, from 7 to 70, drawing upon the power of art, sports and science.
Highlighting that Green Crescent is one of Turkey's oldest non-governmental organizations, and underlining its pioneering role in civil society through its efforts, Green Crescent President Prof. Mücahit Öztürk said:
"The Green Crescent organization was founded to prevent addictions, and has increased its benefit to society by including in its works other types of addictions that have witnessed an increase since its establishment. We dream of a society in which everyone maintains good living habits, plays sports and enriches their lives by engaging in cultural and artistic activities. Our huge Green Crescent family works without pause to make this dream come true. While we contribute to raise awareness among people of all ages through our preventative activities, we also provide support to addicts and their families through our rehabilitation efforts."
He continued: "As Green Crescent, we stand by our citizens in schools, sporting competitions, shot film sequence, drawing cartoon, in all four corners of Turkey and in 81 countries around the world. We have benefitted the lives of millions of people to date, and this number is increasing exponentially. Accordingly, we celebrate Green Crescent Week this year with the motto "Green Crescent is Always with Me!", and invite everyone to participate in our celebrations."
Celebrations in the international arena through the activities of 81 Country Green Crescents
Serving in 81 provinces of Turkey with a total of 120 branches, Green Crescent is able to draw on the support of hundreds of thousands of volunteers in its activities. Reminding that they pioneered the establishment of the International Federation of Green Crescent, Öztürk stated "Today, we pioneer the struggle against addictions all over the world through our operations in 81 countries, and we celebrate Green Crescent Week with the same level of trust and excitement in all of the countries in which we operate."
Health given the green light in Istanbul
Some of Istanbul's most prominent landmarks are being included in the Green Crescent Week celebrations. While Yavuz Sultan Selim Bridge and Fatih Sultan Mehmet Bridge will be lit up in green lights, the Green Crescent logo will be projected onto Galata Bridge, and lasers from the Sepetçiler Pavilion, as the Headquarters of Green Crescent, will project the Green Crescent logo into the sky. Furthermore, the residents of Istanbul will be able to attend demonstrations in different parts of the city when there are no lockdown restrictions.
Online exhibition dedicated to the pandemic
Green Crescent has been organizing the International Green Crescent Cartoon Contest to draw attention to the perils of addiction since 2016. The selected works of cartoonists from many countries around the world on the subject of addiction are being exhibited online at www.yesilay.org.tr during Green Crescent Week.
Students will be equipped with life skills against addictions in 81 provinces
The Green Crescent Life Skills Training Program (YYBE) – a school-based protective and empowering education program – aims to support students in living lives free from the risk of addiction. In addition to promoting positive behavioral changes and habits, the students are also educated to protect themselves from risky environments and situations. Designed for 7th grade students, the pilot training program was completed in 2020, and the program is scheduled to be disseminated around the 81 provinces in Turkey in 2021. Within program, students are taught a total of 25 basic skills, such as coping with stress, preventing negative emotions, self-discipline, effective communication, empathy, critical thinking, decision-making, and negotiation/rejection skills, over 15 weeks.
Addiction awareness begins at a young age
Green Crescent carries out different projects to raise awareness in children from an early age. Every year, 10 million students and 3 million adults take part in the Addiction Prevention Training Program (TBM), in which the aim is to raise awareness of the different types of addiction in society, especially in children and young people. Through the My Club is Green Crescent project, 30,000 students are instilled with the Green Crescent spirit every year, and go on to share it with their friends at school.
Green Crescent Counselling Centers provide services free of charge in 100 centers
Green Crescent, which added rehabilitation services to its fields of activity in 2013, has been providing services through its Green Crescent Counselling Centers (YEDAM) since 2015. A total of 100 YEDAMs are today offering counselling support to addicts and their relatives free of charge throughout Turkey and the Turkish Republic of Northern Cyprus (TRNC). YEDAM's team of psychologists and social workers, all of whom are professionals in the field of addiction, are providing information and appropriate guidance, counselling and outpatient therapy services on tobacco, alcohol, substance, gambling and Internet addictions.