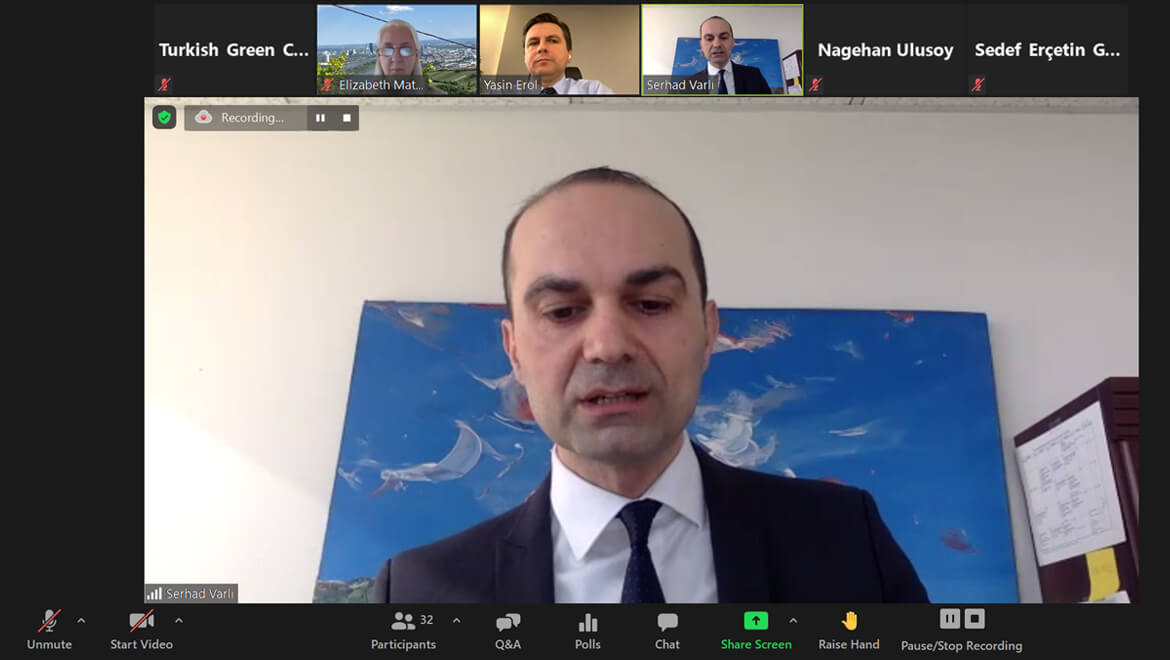 Green Crescent's Youth Advocacy Presentation at ECOSOC
Green Crescent highlighted the works it has been carrying out toward meeting the United Nations 2030 Agenda for Sustainable Development Goals at the ECOSOC (Economic and Social Council) Youth Forum. Green Crescent held a session during the event, which was being organized for the 10th time this year, during which it informed the United Nations about its Youth Advocacy Forum, the first of which was held in 2020, and its works in support of young people. The session included a presentation by Yasin Erol, Deputy Secretary General of the Green Crescent, on the works being carried out by Green Crescent, as well as speeches by Serhad Varlı, Deputy Permanent Mission of Turkey to the UN; and Elizabeth Mattfeld, Global Program Coordinator of the United Nations Office on Drugs and Crime (UNODC).

Opening his speech by emphasizing the importance of having young people involved in their processes, Yasin Erol, Deputy Secretary General of the Green Crescent, said:
"As Green Crescent, we carry out works to prevent addictions to such substances as tobacco, alcohol and drugs, while also addressing behavioral addictions such as online gaming and gambling, all of which can have detrimental impacts on the physical and mental health of young people. At the present time, the young population has reached a rate in the general population never seen before in world history – this rate is 1.8 billion. Thus, we are bearing witness to an era in which the youngest generation between the ages of 10–24 live. Accordingly, as in every field, the meaningful participation of young people in the tackle with addiction is vital if we are to develop an inclusive and sustainable global public health strategy that equally handles the fight. Furthermore, their involvement in this field will have both economic and social benefits for countries by supporting them in reaching their full potential. While we, as non-governmental organizations, have certain responsibilities, the contribution of young people to policy-making to promote the raising of healthy generations is increasing. Within this in mind, we are very happy to be initiating this important work in the organization of the Youth Advocacy Forum, and will play a pioneering role in this field."
Green Crescent will create a global youth network to promote the prevention of addictions
Green Crescent launched the first Youth Advocacy Forum in 2020 with the support of the United Nations Office on Drugs and Crime (UNODC), the United Nations Development Program (UNDP) and the World Health Organization (WHO), aiming to provide young people with a platform from which they could make their voices heard. Emphasizing that the Youth Advocacy Forum is a global youth project, Erol said: "The Forum brings together young people from various cultures, religions, languages, races and nationalities from all over the world with the aim of promoting healthy living and developing their advocacy skills in support of the implementation of the 2030 Agenda for Sustainable Development. As Green Crescent, we aim through this project to create a network for the promotion of healthy living and the prevention of addiction, and to expand it by organizing this forum every year."

The First Youth Advocacy Forum, held online due to the ongoing COVID-19 pandemic, brought together 100 young people from six different regions, namely Africa, America, Asia, Europe, Western Pacific and South-East Asia. The second event is planned to be held in August.
Young people learn from each other's experiences
Stating that the platform allows young people to exchange their ideas and experiences, as well as equal opportunities, Erol said: "Thanks to this forum, young people have been able to learn from each other's experiences on the interventions and strategies of different industries. They gained a deeper understanding of the structures and working procedures of international institutions and decision makers, and have had the chance to adopt international and regional approaches regarding public policies".

The Youth Advocacy Forum aims to provide a platform for young people to mobilize their peers in their own countries, to create opportunities to connect with young people, to exchange experiences and ideas, and to develop the necessary skills to contribute to regional and global advocacy efforts. Green Crescent is engaged in many activities and projects, such as Youth Camps, the Green Crescent Addiction Prevention Training Program (TBM) Peer Trainings, University Clubs, Green Crescent Clubs, and social and cultural activities where advocacy topics targeting different communities at national and international levels are discussed, and strategies are developed accordingly.