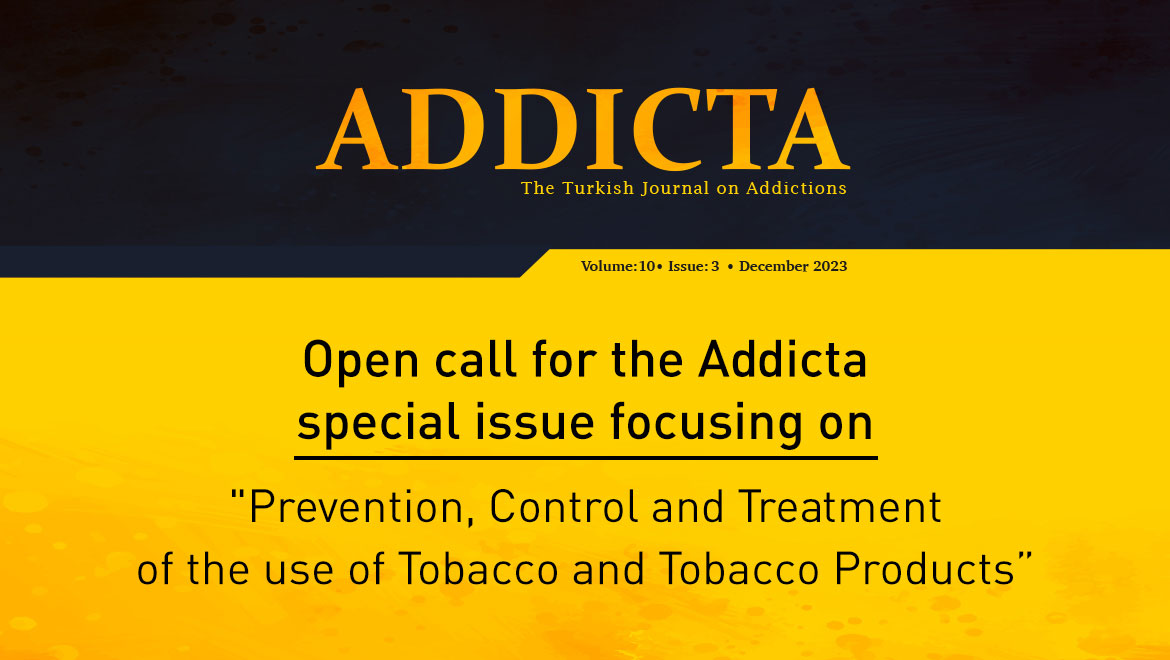 Open call for the Addicta special issue focusing on "Prevention, Control and Treatment of the use of Tobacco and Tobacco Products"
Addicta: The Turkish Journal on Addictions
Prevention, Control and Treatment of the use of Tobacco and Tobacco Products

Article Submission Deadline:
31 October 2023

Toker Ergüder (Prof. Dr.), University of Health Sciences Gülhane Faculty of Medicine, Department of Public Health, Member of the Green Crescent Scientific Committee The special issue in 2023 of Addicta: The Turkish Journal on Addictions, published quarterly by the Turkish
Green Crescent Society will be: "Prevention, Control and Treatment of the use of Tobacco and Tobacco Products".

Addicta is a peer-reviewed, academic journal that publishes research on the problem of addiction. The aim of the journal is to be a platform for original, international and interdisciplinary scientific studies, generate qualified discussions on addiction and contribute to the shaping of policies on addiction in Türkiye. Therefore, in addition to technical competence, the studies to be published are expected to make new and original contributions to addiction debates. Thus, the aim is to contribute to the accumulation of knowledge that will be utilized by individuals and/or institutions working in the field of addiction in Türkiye.

Addicta publishes original research, experimental and clinical studies, policy analyses, case studies and book reviews in the fields of health sciences, public health, criminology, forensic medicine, nursing, toxicology, psychiatry, sociology, psychology, psychology of religion, educational sciences, law, communication, philosophy, and social services (as well as meritable studies from other areas). Tobacco use is one of the most important preventable causes of death and public health hazards in our country and in the world. More than 8 million people die every year in the world due to smoking-related diseases. Of these, 7 million die from smoking cigarettes themselves while 1.2 million die from exposure to tobacco smoke. Almost half of all children breathe air contaminated with tobacco smoke and 65,000 children die every year due to diseases caused by cigarette smoke. It has been determined that more than 100,000 people die from smoking-related diseases in Türkiye. Most tobacco-related deaths occur in lowand middle-income countries, which have become targets of intensive marketing by the tobacco industry. All forms of tobacco use are harmful and there is no safe level of tobacco use. Nicotine in tobacco is highly addictive and tobacco use is a major risk factor for cardiovascular and respiratory diseases, more than 20 different types and subtypes of cancer and many other serious health problems. In 2003, the WHO FCTC (Framework Convention on Tobacco Control) came into force. This is the first global framework convention of the United Nations on public health and has been signed by 182 countries. The convention includes many recommendations on both community and individual levels. These include price and tax regulations, protection from exposure to tobacco smoke, packaging and labeling of tobacco products, prohibition of tobacco advertising, promotion and sponsorship, and their monitoring and evaluation, especially to reduce the demand for tobacco and prevent smuggling. The Convention also provides methods for individuals to reduce tobacco dependence and quit tobacco products.

The aim of this special issue is to compare the national and international dimensions of tobacco use and tobacco control policies based on scientific evidence in line with the World Health Organization Framework Convention on Tobacco Control and MPOWER criteria, compare different practices and the effectiveness of these practices, and ensure the dissemination of tobacco control policies in accordance with scientific evidence.

Articles to be submitted to the special issue can include research and book reviews on the following topics and/or other themes, provided that they are commensurate with the scope of the main title "Prevention, Control and Treatment of the use of Tobacco and Tobacco Products":

The Basics of Tobacco Control

Global Tobacco Epidemic

World Health Organization Framework Convention on Tobacco Control (FCTC)

World Health Organization MPOWER Package

History and Legislative Course of Tobacco Control in Türkiye

Tobacco or Health

Tobacco Addiction

The Effect of Tobacco Use on Health

The Effects of Tobacco Products on the Environment

The Global Tobacco Industry

The Economics of Tobacco Control

The Costs of Tobacco Use

The Demand for Tobacco Products

The Supply of Tobacco Products

Tobacco Control Measures

Taxation

Prevention of Second and Third Hand Smoke

Smoking Cessation Services

Public Information Campaigns and Health Warnings on Cigarette Packs

Cigarette Advertising, Promotion and Sponsorship

Regulating Tobacco Products

Monitoring and Assessment

Tobacco Epidemic

Tobacco Use Surveillance

Monitoring and Evaluation of Tobacco Control Policies and Interventions

The Role of Health Professionals in Tobacco Control

Children and Adolescents and Prevention and Treatment of Tobacco Use

Pregnant Women and Prevention and Treatment of Tobacco Use

Protecting Children from Second-Hand Smoke

Creating nicotine-free and smoke-free zone for children

Tobacco Control and Communication

Development, Implementation and Evaluation of Public Information and Communication Campaigns

Effective Messages to Change Behavior in Tobacco Control and the Role of Media

Tobacco Control and Health Literacy

Major Organizations for Tobacco Control

Civil Society Contribution in Tackling Tobacco

University Contribution in Tobacco Control

Community Leadership and Holistic Government Approach in Tobacco Control
Addicta welcomes contributions from academics and researchers in the fields of humanities, social sciences and medicine and articles written from an interdisciplinary perspective. The deadline for submission of articles is October 31, 2023.

Authors are expected to submit their articles using our online service; articles sent by post or e-mail will not be considered.

Articles submitted for publication in this journal should be edited in accordance with Addicta's editorial guidelines, which are available at https://www.addicta.com.tr/en/instructions-to-authors-106.

We welcome you to be a part of this work, which aims to establish a general platform for Addicta. Feel free to contact our guest editor Prof. Dr. Toker Ergüder via e-mail at ergudert@who.int for any inquires you may have.

Please visit http://addicta.com.tr for more information about the journal.