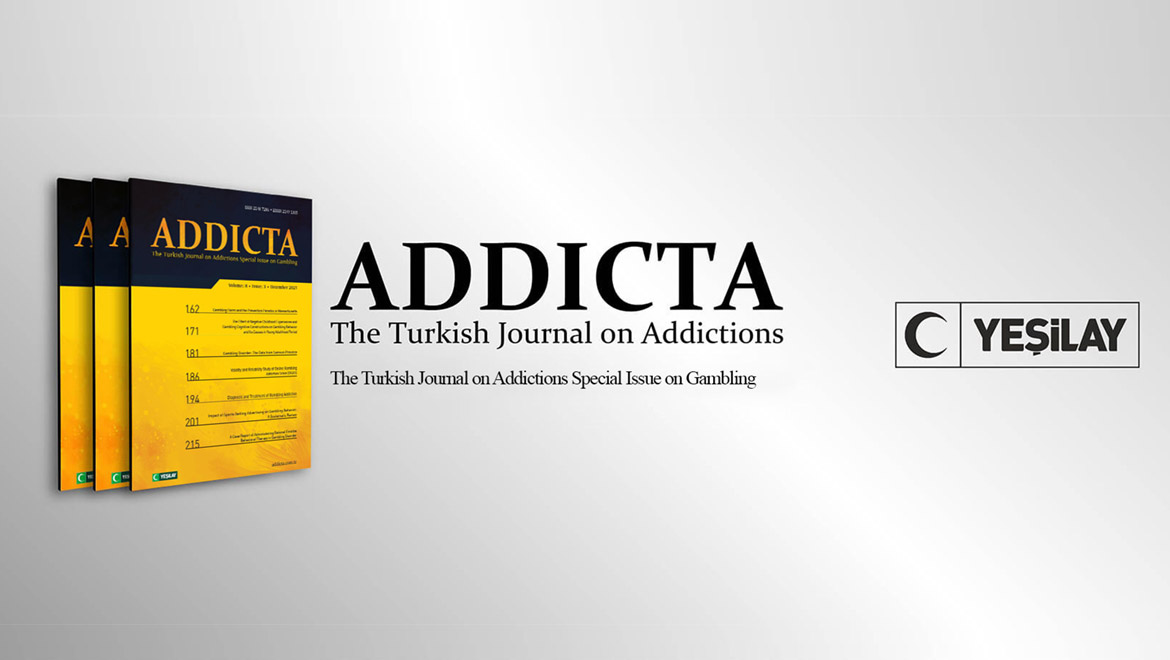 The special "Gambling" issue of Addicta for 2021 has been published
Addicta, Green Crescent's peer-reviewed academic journal in which the focus is on addictions:The 2021 special gambling-themed issue of The Turkish Journal on Addictions has been published.

The Special Issue on Gambling, edited by Prof. Marc Potenza, Prof. Şaziye Senem Başgül, and Associate Prof. Merih Altıntaş can be accessed at http://addicta.com.tr/.

Gambling refers to games of chance and card games in which bets are placed in the hope of gain, either financial or otherwise, based on an uncertain outcome. Gambling is as old as history itself, but it is generally accepted that it developed into an industry concurrently with the Industrial Revolution. Gambling can inflict great psychological and economic harm on the individual and his/her family, as well as the public at large. The rapid spread of the Internet use and online games, and their support of gambling, indicate that the issue of gambling will be further exacerbated in the years to come, as such games can easily find their way into the vulnerable world of children. If we cannot prevent the development of gambling habits in childhood, gambling addiction will develop into a public health problem that will be difficult to address in the future. As was strongly emphasized at the World Health Organization's Gambling Workshop, hosted by Green Crescent in Istanbul on December 2–4, 2019, gambling addiction is a growing problem, and the current efforts and studies in this field are inadequate. This special issue accords priority to the continued efforts to address the issue of "Gambling" and is intended to contribute to future fieldworks.

Addicta, which was first published in 2014, serves as a medium for the publication of international and interdisciplinary scientific articles related to the global problem of addiction, aiming to spur qualified discussions regarding addictions and to contribute to the development of addiction-related policies in Turkey.Since 2015, Addicta has been included in both international and national databases, such as the Emerging Sources Citation Index (ESCI), the TÜBİTAK ULAKBİM Social and Human Sciences Database, the InfoBase INDEX, the Academic Search Premier (EBSCO) and the Turkish Psychiatry Directory.
Articles in the Addicta 8-3 Special Issue on Gambling:

Gambling Harm and the Prevention Paradox in Massachusetts
Rachel A. Volberg, Martha Zorn, Robert J. Williams, Valerie Evans
The Effect of Negative Childhood Experiences and Gambling Cognitive Constructions on Gambling Behavior and Its Causes in Young Adulthood Period
Hilal Aslan, Şaziye Senem Başgül, Akif Avcu, Canahmet Boz

Gambling Disorder: The Data from Samsun Province
Hilal Aslan, Şaziye Senem Başgül, Akif Avcu, Canahmet Boz

Validity and Reliability Study of Online Gambling Addiction Scale (OGAS)
Adnan Karaibrahimoğlu, Ahmet Nesimi Kişioğlu, Betül Çoban, Ayşe Yıldırım, Servet Derya Yılmaz

Invited Article
Diagnosis and Treatment of Gambling Addiction
Zihniye Okray, Cemaliye Direktör

Systematic Review
Impact of Sports Betting Advertising on Gambling Behavior: A Systematic Review
Elizabeth Killick, Mark D. Griffiths

Case Report
A Case Report of Administering Rational Emotive Behavioral Therapy in Gambling Disorder
Esengül Ekici, Fatih Yığman, Olga Güriz