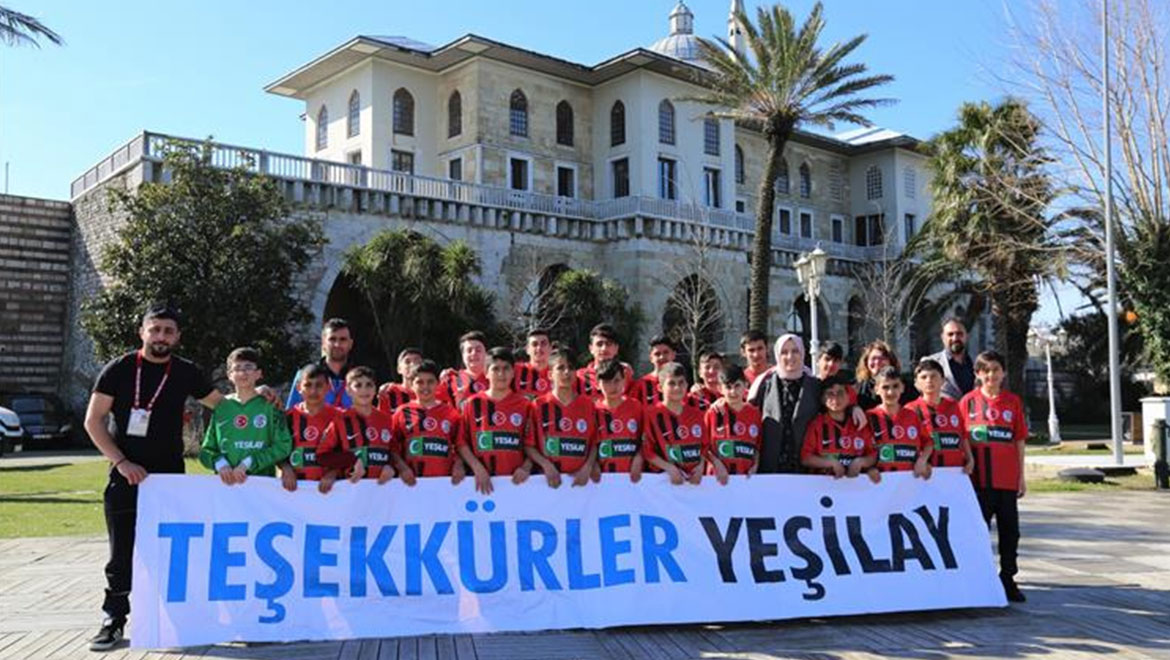 Tremendous Success of 1071 Malazgirt Sports Club which was supported by Green Crescent
Within the scope of "Green Light for Life with Sports" Project which is executed by 1071 Malazgirt Sports Club with the support of Green Crescent, 150 children have learned football and turned a new page in their life, and won the championship in their age group.
In the first stage of the 2018 project which aimed to keep 150 children and youth, from Malazgirt within the ages of 12-17, away from addictions and aimed to increase their participations in social activities in life with football, auditions were made and teams were formed. The sports clothes and equipment expenses were covered by the project which was initiated with the Green Crescent's support. Among the 400 applicants, 150 young talented sportsmen were given football training in 2-6 months periods, and allowed to form teams within 5 age groups. Within these teams, U-15 team contending in the 1st Category Amateur League, won the Muş Provincial Championship. U-13 players who completed the league as the 2nd received Muş's most gentlemanlike team title.
Hosted in İstanbul, the U-13 team has come together with the President of Green Crescent Prof. Dr. Mücahit Öztürk and the General Manager of Green Crescent Sultan Işık in the Green Crescent's Headquarters at Sepetçiler Pavilion.
Underlining that they are the only NGO in the world battling with five addiction types at the same time, Green Crescent President Prof. Dr. Mücahit Öztürk said "In the fight against addiction, sports come to the forefront as one of the most important subjects. Our regularly exercising children and youth (who engaged in sports) are lighting a "Green Light for Life" with new purposes. Within the scope of the cooperation we carried out with 1071 Malazgirt Sports Club, 150 of our children competed for championship in the amateur league by learning football. So to speak, they seized the opportunity. Our U-13 players had a completely different experience by watching the Başakşehir and Fenerbahçe derby from bleacher in İstanbul. We are working tirelessly in this project to touch more lives and give a new meaning to their lives."
Indicating that they exhibit a holistic struggle management with preventive and educational approach in the fight against addiction, Green Crescent General Manager Sultan Işık said "Leaving its 99th year behind, Green Crescent continues its national and international awareness projects in great haste. Our priority is to touch every corner of Turkey, and protect our children from addictions. In accordance with our priorities, we aim to protect future generations from addictions with sports, with the support we have given to 1071 Malazgirt Sports Club. I believe the seeds planted today will grow in the long term, and every single adolescent of the 22 players of 1071 Malazgirt Sports Club will become a Green Crescent representative. And this is the source of our biggest joy."
Arriving in İstanbul on Friday, and touring İstanbul during the weekend with the excitement of seeing the Bosphorus for the first time, 1071 Malazgirt Sports Club U-13 team watched the Super League game between Malazgirt's brother province Başakşehir and Fenerbahçe from bleachers.